Due to mature content, these should only be viewed by those 18 years of age and older.
Videos
Stories
There once was a man named Gay Bob,
Who stroked testicles as part of his job,
The other Joes didn't mind,
They were treated quite kind,
Especially when he polished their knob.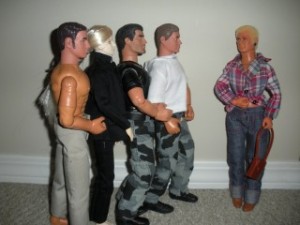 MEET THE BOYS – John walks in on Colt and Rick
PERFORMING JOES – a few toys take matters into their own hands
THE NEW GUY – Meet New Guy and see how John likes him…
RICK AND COLT'S ADVENTURE –  
DAY ONE  – Taking Portland by storm!
MEET THE NEW GUYS! – Gay Bob and Tom arrive at Jade's house
MEET THE NEW GUY!!! – Hello Billy! Who likes a cowboy? 
KEN'S NIGHTMARE – Poor Ken has a nightmare. Luckily, Billy is there to help 
SNOW! – The boys play in the snow
FOLSOM – This is what happens when my boys want to play dress up
DANIEL IN DRAG – Pretty self-explanatory actually 🙂
NEW PROPS FOR THE BOYS – Tom and Daniel have a little bit of fun
IS THAT MY PURSE? – Daniel gets a new accessory
CROCS VS JOES – Oh, the inhumanity of bad footwear…
NEW TOYS AND BOYS – a few new additions to the family
BATHROOM FUN – Find a room, boys!
Pictures
Ever wondered what a bunch of GI Joes do in their spare time?? Or, what Jade does in her spare time? Here's a few pics: http://jadebuchanan.livejournal.com/photo/album/405/?page=1